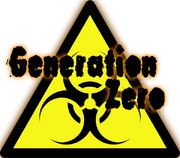 The Project
Edit
Fallout (3 unfortunately) was the game that really got me into RPGs, giving them the crown as my favorite genera. I was instantly captivated with Fallout 3's Wasteland, graphics and impossibilities. I also began to see flaws in its structure, like this weapon should be stronger, this armor should be weaker or why can't you modify weapons. These ideas ultimately gave birth to my first venture into writing an RPG's rules: Desolation.
The first (dubbed Alpha) failed rather quickly as it became very bloated but with minimal content. Little less than a year later, I developed a Beta model based more in Fallout 2's system. I learned my lessons from the first failure and developed a very in depth system but that turned out to be Beta's fall: it was too complicated. I added in several new ideas to the game that would've worked great: if it was a computer game. Eventually, it faded off but the bug to build this thing right remained. Finally, I have the third model: Generation Zero. Renamed and rebuilt, Generation Zero started life out as a very stripped down and basic in some areas but complex and intricate in others. It introduces a number of innovations to Fallout's universe such as sickness, realistic injuries, gear, shields, cover and vehicles, The skills have been reworked with several being merged and the new Perks and several other systems allow for any character type to be used with minimal difficulty.
Generation Zero takes place years after a biological apocalypse left the nation in ruins and cities overrun by Pagano or various classes of mutant animals and humans. Society has slowly begun to break apart as resources become harder and harder to find and the mutations become stronger and more intelligent. Into this world, a detachment of the government's military, calling themselves Empirical show up with the promise of restoring the area and cleansing it of the Pagano. Nothing is, however, as it seems...
My favorite pages
Edit
Add links to your favorite pages on the wiki here!
Favorite page #2
Favorite page #3